Japanese restaurant Mai
Japanese restaurant Mai
Japanese restaurant Mai
Mai
Japanese Restaurant
Mai offers Kaiseki cuisine, sushi, and sashimi prepared with only the freshest fish directly from Tokyo's famous Tsukiji Fish Market.
Breakfast, Lunch & Dinner
Tel: +81-3-5423-7781
Guests will not want to miss the essence and artistry of traditional Japan at Mai at The Westin Tokyo, a purveyor of the finest, freshest sushi and sashimi, in addition to scrumptious tempura and a range of innovative kaiseki dishes. Mai also features a superb selection of Japanese shochu and sake. Mai, located on the hotel's second floor, offers dining arrangements to suit all types of parties and occasions. Sit together at the elegant sushi bar, in our main dining area's table seating, or at a private sushi counter seating two to four persons while delighting in the artistic and enticing kaiseki bento.
Five other private dining settings include a small table and chairs to seat six, a traditional Japanese Tatami Mat-style room decorated in subtle tones of beige and wood ideal for betrothal ceremonies or business luncheons or dinners of up to six guests, and a large private room to seat from 20 to 30 guests at Western-style tables and chairs.
Regardless of the number of guests, many or few, Mai will present exquisite Japanese haute cuisine of kaiseki, sushi, sashimi, and tempura, the best of its kind in Tokyo.
On weekday afternoons, you're invited to enjoy the soothing experience of Japanese Afternoon Tea, served with sweet cakes and traditional tea cake (no other restaurant meal service is available during this time).
SEASONAL MENU
Hokkaido Seafood Wonders
Jun 1 (Fri) - Jun 30, 2018 (Sat)
A special summer Kaiseki course where guests can indulge in top-notch seafood handpicked by local experts from Hokkaido including king crabs, "Kinki" rockfish, abalone, sea urchin to scallop. A premium rice bowl extravagantly topped with Hokkaido seafood is also available at lunchtime.
Price:
Lunch (Sashimi Rice Bowl): 8,000 JPY
Click here for menu
Dinner (Seafood Course): 18,000 JPY
Click here for menu

Lunch & Dinner (Sushi bar):
Trust the Chef sushi course: 18,000 JPY
Click here for menu
CLASSIC MENU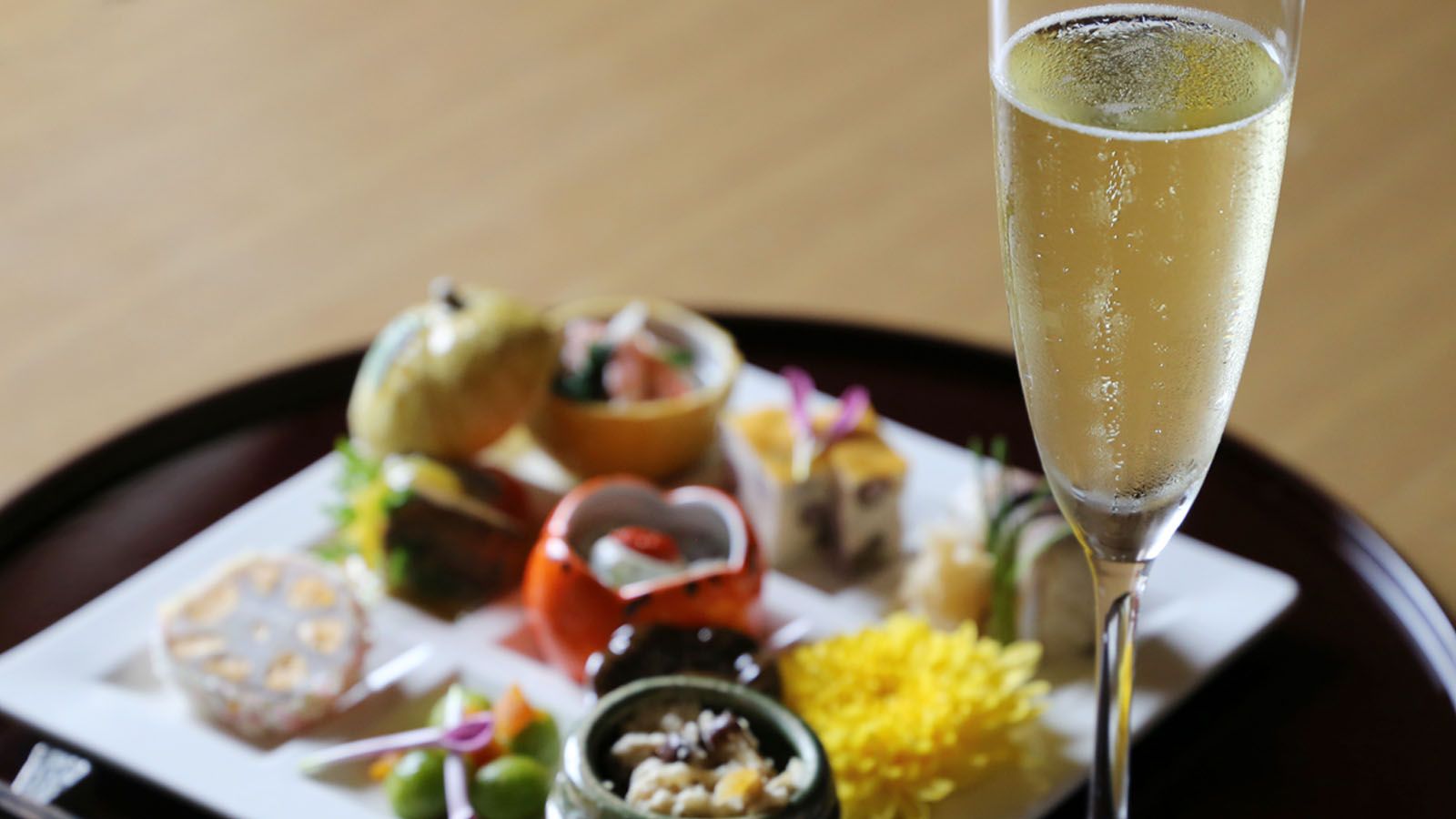 Japanese Sake / Champagne free flow
Please enjoy our special lunch and dinner with 5 kinds of Champagne or 3 kinds of Japanese Sake

■ Japanese Sake free-flow
-price : 3,500 JPY

Takezuru Jyunmai(Hiroshima)
Kakurei  Honjyozo(Niigata)
Daina Jyunmai ginjyou(Tochigi)
Hitakami Jyunmai (Miyagi)
Kikuyoi Jyunmai (Shizuoka)

■ Champagne free-flow
-price : 4,000 JPY

Louis Roederer Brut Premier
Moet & Chandon Brut Imperial
Taittinger Brut Reserve
Information
Cuisine: Japanese
Atmosphere: Elegant and intimate
Serving Style: A La Carte
Dress Code: Smart Casual
Chef: Kazushi Iwane
Smoking Permitted: No
Hours: Monday-Friday 11:30 AM - 4:30 PM , 5:30 PM - 9:30 PM / Saturday 11:30 AM - 3:00 PM, 5:30 PM - 9:30 PM / Sunday 7:00 AM - 10:00 AM, 11:30 AM - 3:00 PM, 5:30 PM - 9:30 PM
Phone: +81-3-5423-7781